Amenities

Wireless High Speed Internet
Refrigerator/ Microwave
In room Coffee
Cable T.V. with HBO
Attractions

Premiere Cinema
Ralph Leroy Miliken Museum
Nearly 160000 acres of seasonal wetland for hunting
State recreation state park for boating
customer reviews
Nice Place to Stay
Jinalopez, California


I have a business trip passing through Los banos. Very comfortable stay, easy late night check in. and comfortable rooms with all amenities.

Pleasent Stay at Affordable Price
Gary Slinger, Los Angeles

I attended Los Banos Motor Cycle Rally and stayed at Sun Star Inn for 3 days... It was very pleasent stay and came at an affordable price. There was a very good breakfast place next door. I would reccomend this motel to any of my friends.


Hotel that cares for you
Michelle Irene, Wyoming

I am travelling Nurse, and I stayed at this motel for 2 weeks. Since, I am a very light sleeper, I appreciated the quite enviroment. Also sometimes I working the Night shift and get home at odd hours, but their was always a clean room for me when got back. Rooms were usually ready at 8:00 A.M. I was also pleased with their service and the friendliness of the managers.


Excellent Accommodation
Mr. & Mrs. Stanberry, Arizona

We are always travelling from Arizona to California, and we have relatives in Los Banos. Someone in our family recomended this place to us, due to their excellent accommodations. There are many dinner places that are in walking distance.


Very Enjoyable Stay!!!
Indiana

I recently stayed with the Sun Star Inn in Los Banos and was pleasantly surprised. I had expected the small hotel to be just that, a small room with little to no amenities....how wrong I was. The woman at the front desk seemed genuinely pleased to see me, a great feeling for anyone traveling. The check in process was painless and the room was a mere 50 feet from the front office. Upon entering the room the first thing I noticed was the huge bed, and both refridgerator and microwave. The TV was small but served its purpose dutifully. No problems with the remote or channels. When I lost my key I was not chastised, merely recieved a replacement card and was on my way in 45 seconds or less. The only complaint I had was with the lighting in the room, the switch nearest the door controlled a dim hanging light on the other side of the room and the main light was controled by a switch nearest the restroom. The bed was comfortable and the pillows as well. Plenty of seating, 4 chairs a desk and a glass table as well as 2 lamps would ordinarily clutter the room but it was quite spacious. Amazing fridge, went form unplugged and warm to cold in a matter of minutes and I actually had a soda-slushie when i forgot to turn it back down a little. All in all, when my travels bring me back to Los Banos this is where I will be staying, great rate, great service amazing room. They have my business.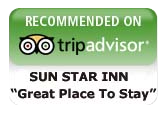 We are a pet friendly motel, but only on approval by manager for a additional charge







Sun Star Inn
839, W. Pacheco Blvd.
( Hwy 152 )
Los Banos, CA 93635
Phone:
(209) 826-3805

Fax:
(209) 826-7067
Click here for Email